Deb Callison, LMT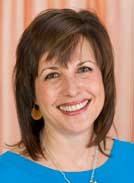 Deb graduated from the Heath Enrichment Center in Lapeer, Mi in 1994.
Her training and certifications include:
Professional Massage Practitioner
Manual Medicine
Russian Medical Massage
Myofascial Release
Transformational Breathwork Practitioner
Ayurvedic Medicine Consultant
Certified Aromatherapist
Reike Master
About Deb: My motto is "We rub you the right way!"
"I have lived in Traverse City for 30 years. I previously owned Body Botanicals and Massage in Traverse City, MI for 10 years. I loved doing massage and have always been interested in anything having to do with health and wellness. In 2004 I decided to pursue some other avenues for personal effectiveness and opened a speaking and personal coaching business, Certain Success, Inc., to help people get what they want. I have recently decided to merge the two to encourage and promote balance in my clients' lives; and I have truly missed doing massage!
There is so much correlation to our minds and bodies. When we are stressed out and anxious it affects our bodies. When we are injured or uncomfortable it affects our minds! My goal is for people to benefit from my services on every level!"